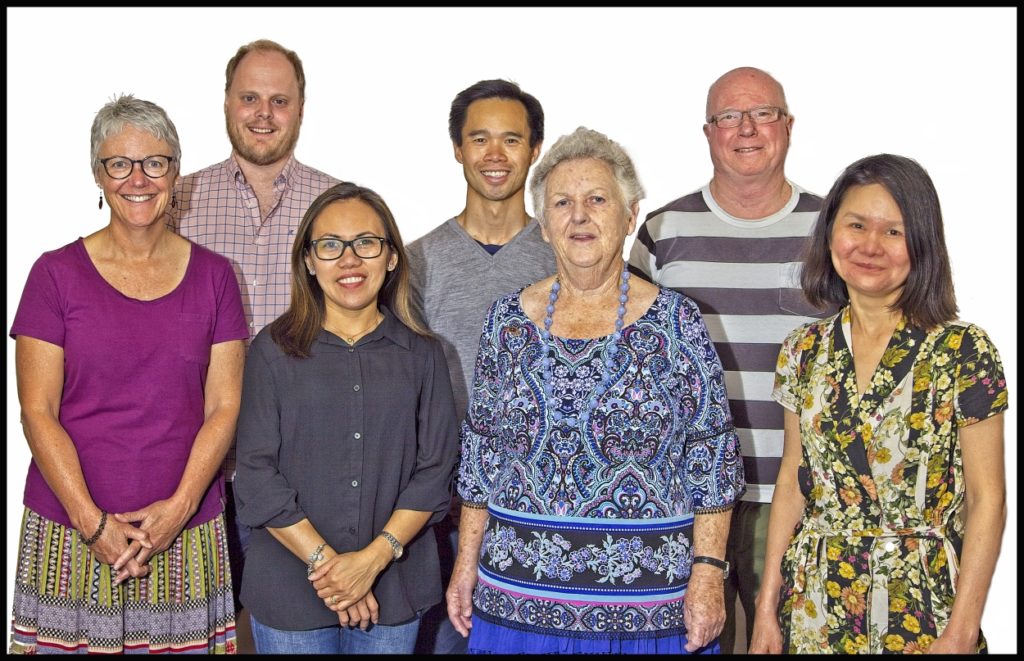 Pastors
---
Lead Pastor – Chris McGowan
part-time: Monday, Tuesday, Wednesday (AM), Sunday (AM)
Chris has been part of the pastoral team here at West Ryde since August 2010. Her responsibilities include Discipleship, Preaching, Women's ministry and whatever else comes her way. She's married to Rob, a fire-fighter and they have 4 great adult children.
Chris enjoys spending time with people and loves being outside whether in the garden, walking in the bush or running around on the soccer field. She's passionate about building community and seeing people develop and grow in their relationship with Jesus.
---
Student Pastor – Karen Quah
part-time: Monday / Tuesday am
Karen has completed a Graduate Diploma of Divinity and is completing a Grad. Certificate in Chaplaincy. In 2017, she had the privilege of preaching at West Ryde Community Church as a guest speaker and started attending the church in 2018. She feels humbled for this opportunity to serve as student pastor. Her tasks include oversight of Discipleship, leading a Connect/Bible Study group, Women's activities, Preaching and Pastoral Care.
Karen is a single mother of a teenage daughter. Before studying, she worked in aged care. She has a heart for those who do not yet know God, those who are spiritually yearning, and those who are struggling – physically, mentally and emotionally. Karen enjoys writing and telling stories, fiction and ancient mythology, cooking, bushwalking and anything beach-related.
---
Staff
---
Church Office Manager – Cassandra Falson
part-time: Wednesdays
Cassandra is married to Mark and has three adult children – Erin & Lachlan & Amy. Cassandra has been a part of the West Ryde team in a part-time capacity since 2008. She enjoys helping to lighten the load of the pastors through her admin & communications role. She enjoys greeting all who pass by her office but is often 'in the zone' – head down, task-oriented mode.
When not at work , Cassandra likes a good book or movie, bushwalking and holidaying with her family.
---
Administrative Assistant – Nazi Gharehbaghi
part-time: Wednesdays
---
Senior Leaders
---
Administration (Secretary) – James Piper
James is married to Jenny and has two young girls: Miriam and Aurelia. After moving into the area in 2010 he joined West Ryde Baptist Church, and has served in a variety of ministry roles. He enjoys applying his administrative skills to assist the Church in the position of Secretary.
James works full-time as a Principal Engineer in the transport sector. In his spare time James enjoys cooking, board games, cinema, and occasional do-it-yourself handiwork.
---
Care – Helen Carruthers
Helen has been part of West Ryde Baptist Church since 2000 and loves being part of the leadership team. Since her husband's death nearly three years ago she has been more involved. She loves relating to people, especially those from other cultural backgrounds.
She loves looking after her grandchildren. In her spare time she loves watching AFL football, reading, researching her family tree, and visiting or enjoying a coffee with others.
---
Property Use & Development – Scott Hill
Scott has been attending West Ryde Community Church for over 30 years. He has served in various ministries especially youth ministries for most of those years, and is currently serving on the leadership of the church for the last 15 years. He always wants to ensure people feel welcomed and included in the church community.
He is transitioning from the accounting profession to aid & development after completing a degree last year. He loves to travel, meet new people and enjoys outdoor activities.
---
Mary Sirimat
---
Alan Ly
Alan has been part of West Ryde Community Church since 2018. He is married to Elise and they have a young daughter Abigail. They moved into the West Ryde area in 2017, and previously attended other Baptist churches. Alan works at the NSW Environment Protection Authority as a Senior Project Officer. He has a background in law, science, and regulation, and enjoys applying his skills and experiences to assist the Church.
He loves spending time with his family, eating and cooking. He is a Lakers fan, and enjoys playing basketball. And when he has time, he loves to rock climb and canyon in the Blue Mountains.